This is a very hurried post..but something I felt must be recorded and highlighted..I am practically seething with anger as I write this..These thoughts were triggered by this caustic tweet from Darshak Hathi:
Public memory is very short. No wonder Kalmadi, Raja in parliamentary Committe…
This prompted me to dig a bit more. I had not heard of Raja and Kalmadi being part of this expansion. I an not sure how many of you realised when this happened..It was almost a month ago – in a bit of news that I had missed, although it was reported on multiple news-sites and newspapers. More interestingly, the Congress had tried to brazen this out by saying it had nothing to do with the Party and being on a Parliamentary Committee was a "right" of an MP. Here is a sample, from "No wrong in Raja, Kalmadi being made Parliament panel members: Cong" (emphasis added):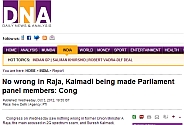 Congress on Wednesday saw nothing wrong in former Union Minister A Raja, the main accused in 2G spectrum scam, and Suresh Kalmadi, accused in the Commonwealth Games scam, being made members of Parliamentary Standing Committees.
"It is the right of a member of Parliament to be on a Committee, whatever may be charges or allegations. The members are not nominated by their party," party spokesman P C Chacko told reporters.
Chacko, who heads the Privileges Committee of the Lok Sabha, said every MP is entitled to be on a Committee and he "cannot be denied that privilege". 
Asked whether Congress could tell controversial members like Kalmadi not to accept a Parliamentary Committee membership, he said, "I don't think that the party can do like that. It is a privilege." He said members tell their choices for Parliamentary Committees and as per that they are made members.
Raja, who represents DMK in the Lok Sabha, has been nominated to the Standing Committee on Energy. Kalmadi, Congress member of the Lok Sabha, has been nominated to the Standing Committee on External Affairs.
…DMK MP Kanimozhi, who was also accused in some cases related to the 2G spectrum allocation, has been nominated to the Standing Committee on Home Affairs.
I decided to dig a bit more..and discovered that Sh Chacko was either mis-informed or he was being deliberately half-truthful. As this link on Parliamentary Committees (from the official website) mentions (emphasis added):
Each of these Standing Committees (which by the way include all the three mentioned above) consists of not more than 45 members—30 to be nominated by the Speaker from amongst the members of Lok Sabha and 15 to be nominated by the Chairman, Rajya Sabha from amongst the members of Rajya Sabha.
So neither is an MP "entitled" to be on a Committee; nor does it appear that this "privilege" cannot be denied.
The real question is, why did Meira Kumar "nominate" Sh Raja, Sh Kalmadi and Km Kanimozhi to these committees, even though she was fully aware of the charges against them? There is no mention of the minimum number required for a Committee to function – so that cannot be a reason. Was there some other reason? And why did the BJP not do much about this except issue some press statements? Did it lodge a protest?  If not, why not?  and if it did lodge a protest, why did it not create a ruckus about it? Can someone help me find answers?
Pl share and spread this message so that at least once we can say, "the public remembers" . Jai Hind, Jai Bharat!
Related Posts: Of corrupt parliamentarians, thugs and jokers..,
A Raja, N Radia and a relaxing weekend (NOT) and As more skeltons keep tumbling out of the cupboard
Update from a twitter exchange w/ Meenakashi Lekhi-ji:
Meenakashi Lekhi ‏@M_Lekhi wrote: "@yogesh_bh agree with u that 2b part of a standing committee is neither right nor privilege& BJpdid protest abt Kalmadi&Raja Welcome sugt.✗u"
I responded: ".Thnx @M_Lekhi-ji for the quick response to Q raised in my post. One last Q: Was a formal protest lodged with Speaker or in LS? @yogesh_bh"
She followed up with: "@satyamevajayate Protest was there 4sure form unable to recall,will find out !"
Am trying to get a response from Congress spokesperson too. Stay tuned