Last week, a long-time reader of the blog (and someone who I know; lets just call him HV) sent me an email asking for advice on how to deal with a "धर्मं -संकट ". His was a real-life ethical dilemma..something I suspect millions of Indians face everyday. He wrote (emphasis added):
I'm in a dharma-sankat! I just moved to India and am very concerned about an ethical dilemma I'm facing almost every week.
How do you manage the problem of bribes one has to pay to the government employees for almost every task? I recently had to register my vehicle with RTO and the officer wouldn't pass the papers forward without charging a "commission" of Rs. 200. While he didn't ask for the bribe directly, it's known that Rs. 200 is the market price for registration. I was told by the agent that if I don't pay Rs. 200, I would be forced to travel long distances multiple times. That's exactly what I did. The officer was also very rude to me.
I talked about this to my friends and family and they are discouraging me from adopting such honest behaviour in India. They said that if I must settle in India, I will have to learn to pay bribes, else nothing would get accomplished. While this is obvious, how does one get around it? How do you get around it?
If you are uncomfortable answering this via email, I'd be willing to talk on phone…Please guide me as to the right step! Thanks,
As I wrote above, this kind of a situation is common-place in India. Unless you are one of the not-so-aam-aadmi, I can bet you have faced something similar before. I have been luckier than most, having spent almost all my working life in India as a civil servant & a "Class-I Gazetted Officer" to boot (that too during a time when such things did matter!). After I resigned from the IFS and started my new career in London, I was apprehensive of facing such a situation during my frequent travels to India but I have been "lucky" so far.
However I do know of numerous such instances, including experiences of close friends, relatives and colleagues. The first point I would like to make here is in the situation faced by HV, he is not really a "criminal" (although he most certainly would be, in the eyes of the law) but a "victim" – a "victim" of complex regulations, opacity, lack of accountability and complete absence of service-norms and expectations. He is a victim because he is "forced" to be dishonest, since all "reasonable" attempts at seeking the service that he is paying for – and therefore entitled to – have been made and exhausted.
Note although that this is not your basic, in-your-face demand for money (which is actually easier to complain about and "deal" with) but a sly request, made indirectly, often via third-parties and in very vague terms. This kind of "service charge" is harder to fight with – since it is rarely clear who exactly is asking for the money, and how much.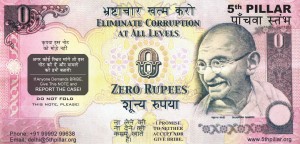 Coming back to our dilemma , the choice that HV now has is to either pay the Rs 200/- that has been indirectly "demanded" or to forget about getting his registration papers any time soon – possibly for a long time to come. Depending on his personal situation, the second option may or may not be realistic. If it is not realistic – and if he has made several sincere attempts at getting his work done (which I have no doubt, he has), he should – with a clear conscience – pay the "facilitation" money, "service charge " or whatever else it is called – in the full awareness that he is being forced to act in this manner. He should then consider the following:
1] Make a record of what happened post it on ipaidabribe.com
2] Share his experience with friends, colleagues and others and find out if anyone had a different experience (perhaps there is a sincere, honest officer somewhere in the RTO office?)
3] File an RTI to seek information on how many applications for registration of vehicles are made every month/year and thus get an idea of the scale of this "enterprise"
4] If possible (and this is a big if), seek the help of the "agent" to nail the corrupt official. This is far easier said than done – and assumes (crucially) that the agent is not himself involved in the racket.
I am curious to hear from others..What advice would you give to HV?
P.S. I must end on a positive and upbeat note. Last week in New Delhi, my father-in-law was stopped by the traffic police as his car windows had a film that is now not allowed. The cop was direct, to the point and extraordinarily courteous. We paid the Rs 100/- fine, got a receipt and were on our way after a gentle reminder to take the film off – all of this in less than 10mins! Therefore, have faith. Change will come. Jai Hind, Jai Bharat!.